The Drone Killer™ by IXI Technology at ADS, Inc. Warrior Expo West
3 min read
Drones! Drones! Drones! It seems that anyone and everyone is familiar with drones these days. If you don't already own one, your neighbor probably does. They come in various shapes and sizes, offering some unique and advanced characteristics. One company, SwellPro, has even pioneered a "waterproof drone".
With many of these tiny aircrafts buzzing around, laws and programs are being developed every day. The Federal Aviation Administration (FAA) has developed a Small Unmanned Aircraft Regulation (Part 107) "covering a broad spectrum of commercial uses for drones weighing less than 55 pounds." Other companies, like Verify, offer drone insurance of upwards to $10 Million on demand, with hourly rates. These programs exist because of irresponsible pilots flying their aircraft in unrestricted areas or creating unsafe acts. Even more mortifying are the terrorist and other illicit difunctional groups operating the Small Unmanned Aircraft's (UAS) in austere environments throughout the world, endangering our soldiers and other innocent casualties.
|X| Technology has developed a fully functional, highly anticipated Drone Killer™ to assist in mitigating these issues. The adverse and leading technology has been making wake within the Department of Defense. With Jonathan Gillis writing about drones and their threat, "In over their heads: U.S. Ground Forces are Dangerously unprepared for enemy drones" May of 2017. It is apparent why something of this nature is in high-demand.
Prop used to demonstrate how it can be mounted beneath a sexy set-up!
Coming back from the ADS, Inc Warrior Expo West, it was proudly on display at the IXI Technology booth. The Drone Killer ™ is a robust piece of equipment, closely resembling a "bullpup" style rifle, and is intimidating at first glance. Offering picatinny rails on top and bottom, optics and foregrips can be easily attached. Utilizing a power-efficient FCC-compliant data communications interruption technique, the Drone Killer™ ranges up-to ~800 meters. Offering an "active mode" provides 4 hours of use and a "sensor mode" for 8 hours of sustainment. A hot-swappable Li-Ion battery and a 12V vehicle power plug make this equipment ready for operational use, mobile and on the ground.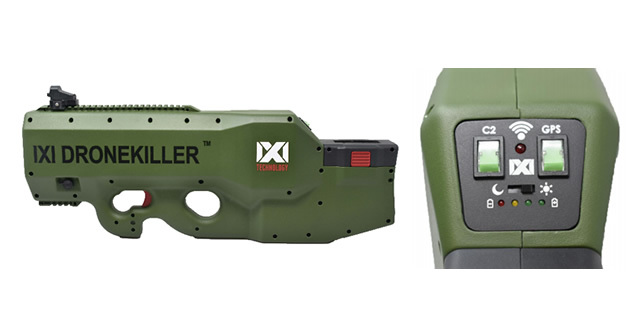 Although the Drone Killer™ provides a productive role on the battlefield, the Oceanside Police Department recently obtained San Diego County's first Drone Killer™. With stateside hobbyist "droners" actively impeding on firefighting operations, downing emergency helicopters in the area due to safety concerns, this piece of equipment is a great fit.
Employment of this system is unlimited when looking into the future and the advancement of drones and their capabilities. Affording an immense contribution to places needing heavy security or during public and private events. |X| Technology has been able to provide a product that is needed and sought after.
My thoughts being an avid drone provider? The articles read well and the equipment sounds astonishing. I'd be honored to test it amongst multiple drone applications, varying in different modes, and test its range capabilities. Without a doubt, I would welcome this onto the battlefield as a preliminary action, detouring the advancement of technology. I would carry it myself. Weighing only 7.5 pounds, less than 100 rounds of 7.62. I'd outfit it with a Trijicon Thermal Rifle Scope and a set of Grip Pods.
*The views and opinions expressed on this website are solely those of the original authors and contributors. These views and opinions do not necessarily represent those of Spotter Up Magazine, the administrative staff, and/or any/all contributors to this site.
Brought to you by the dudes at Spotter Up