War Movies to See, Kajaki: A True Story
4 min read
The movie Kajaki: A True Story– has come and gone from theaters but you can see it on Netflix as it's been on the streaming video service listed as Kilo Two Bravo in America.  It's a 2014 British war docu-drama film directed by Paul Katis, written by Tom Williams, and produced by Katis and Andrew de Lotbiniere.
Kajaki tells the true story of a squad of British soldiers involved in a harowing event that resulted in multiple casualties after entering an Afghan minefield by mistake in 2006. Viewers have described the movie as intense and not a scene was wasted by the director simply for the actors to chew on scenery. One look at the trailer gives you a hint of the austere conditions the men lived in. You have to wonder, what are they fighting for? One soldier died and six others were injured during one of their operations.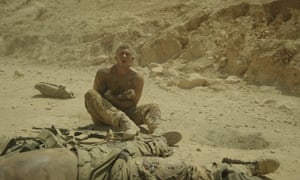 The film begins on 5 September 2006 near the Kajaki dam in Helmand province. The men are from the Army's Third Battalion, the Parachute Regiment and stationed near the Kajaki Dam.  The troops are led by Scotsman Corporal Mark Wright, Medic Paul "Tug" Hartley and his friend Lance-Corporal Stuart Hale (Benjamin O'Mahony).
A three-man patrol sets out to disable a Taliban roadblock. Then, all of a sudden, Hale steps on one of the left-over Soviet land mines. His leg is blown off.  "I didn't see a flash or feel a blast or heat," the real Hale said later. "It was as if I'd stood on a banana skin."  His team come to aid but things do not go well. They are trapped as well and more get wounded. Corporal Stuart Pearson (Scott Kyle) has to deal with his own leg being blown off when clearing a landing site for a RAF Chinook helicopter.
This story is about heroism, selflessness and bravery. There are consequences to what the men do and in fact their stoic leader Corporal Mark Wright dies. Watch video below:
The movie isn't without humor. In one scene one of the soldiers is talking to one of two Afghan boys who are fishing with grenades. He states, "I'm here trying to bring peace and love to your f**king stone-age country," His friend tells him, "Don't pick a fight with an armed midget,".
One of the survivors, Private Jay Davis, said of Pearson's reaction in real life: "He put the tourniquet on himself, put morphine into himself and we just had to leave him." Things take a turn for the worse after the men get injured by the land mines. When the Chinook helicopter is sent in to save the men it lacks a winch to haul them up from danger. As the helicopter leaves it whips up a dust cloud- and in doing so sets another mine off. The blast caused fatal injuries to Corporal Mark Wright and injured two more of his men.
Wright keeps his head even when things go from bad to worse. Seven Paras are gravely injured, and one of them dies by the end.
Corporal Mark Wright, the 27-year-old from Edinburgh, was posthumously awarded the George Cross for his brave attempts to save the lives of colleagues even as he suffered serious wounds himself. At his inquest in 2009, the Ministry of Defence was heavily criticized when a coroner said officials should 'hang their heads in shame' for failing to send helicopters fitted with winches.
Back at home their Defence chiefs  gagged soldiers from talking about the botched Afghan rescue mission portrayed in the new film. An official letter warned servicemen not to discuss the RAF's controversial role in the 2006 operation to save the paratroopers stranded in the minefield. In fact personnel were not permitted to wear their uniform to the cinema to see the film. Ministry of Defence bosses refused to back the film, despite originally saying they would.
The men tease and taunt each other. Even the feelings of the wounded soldiers are not spared, in order to break the tension. It is clear from the script that these men showed bravery, honor and humanity. Despite the fact that so many of them were seriously injured, Patrick Bishop's account specifically says the men kept a sense of humor throughout their six-and-a-half-hour ordeal: "[Corporal Mark] Wright made brave jokes about the amount of insurance that would be coming to him."
Writer Tom Williams captures the tone of the soldiers' dialogue authentically, the actors and the director bring it home for a win. An excellent story, a sad one too, but war is full of these kinds of tales. Go see it.
*The views and opinions expressed on this website are solely those of the original authors and contributors. These views and opinions do not necessarily represent those of Spotter Up Magazine, the administrative staff, and/or any/all contributors to this site.
[amazon_link asins='B017UPRWA8,B00T6DN7PW' template='ProductCarousel' store='spoup-20′ marketplace='US' link_id='9bea3fcc-605b-11e7-b570-fd713b214650′]
[jetpack_subscription_form]
Brought to you by the dudes at Spotter Up
.