Just a Few of the Books on Special Forces you SHOULD BE READING
12 min read
Legend: The Incredible Story of Green Beret Sergeant Roy Benavidez's Heroic Mission to Rescue a Special Forces Team Caught Behind Enemy Lines
The true story of the U.S. Army's 240th Assault Helicopter Company and a Green Beret Staff Sergeant's heroic mission to rescue a Special Forces team trapped behind enemy lines during the Vietnam War, from New York Times bestselling author Eric Blehm.
American Spartan: The Promise, the Mission, and the Betrayal of Special Forces Major Jim Gant
Lawrence of Arabia meets Sebastian Junger's War in this unique, incendiary, and dramatic true story of heroism and heartbreak in Afghanistan written by a Pulitzer Prize–nominated war correspondent.
Army Special Forces Major Jim Gant changed the face of America's war effort in Afghanistan. A decorated Green Beret who spent years in Afghanistan and Iraq training indigenous fighters, Gant argued for embedding autonomous units with tribes across Afghanistan to earn the Afghans' trust and transform them into a reliable ally with whom we could defeat the Taliban and counter al-Qaeda networks. The military's top brass, including General David Petraeus, commander of U.S. Forces in Afghanistan, approved, and Gant was tasked with implementing his controversial strategy.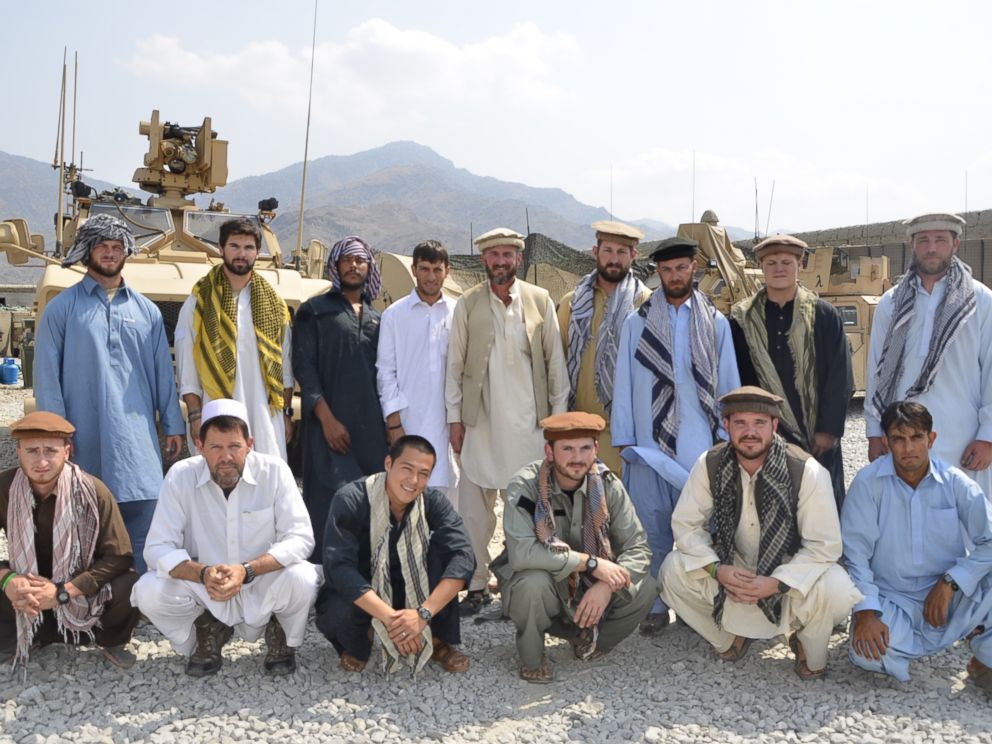 Veteran war correspondent Ann Scott Tyson first spoke with Gant when he was awarded the Silver Star in 2007. Tyson soon came to share Gant's vision, so she accompanied him to Afghanistan, risking her life to embed with the tribes and chronicle their experience. And then they fell in love.
Illustrated with dozens of photographs, American Spartan is their remarkable story—one of the most riveting, emotional narratives of wartime ever published.
On April 6th, 2003, twenty-six Green Berets, including those of Sergeant 1st Class Frank Antenori's Special Forces A-team (call sign Roughneck Nine-One), confronted a vastly superior force―one that included battle tanks and more than 150 well-trained, well-equipped, and well-commanded soldiers―at a remote crossroads near the small village of Debecka, Iraq. The rest is history…
Along the way, they endured a U.S .Navy F-14 dropping a 500-pound bomb on supporting Kurdish Peshmerga fighters, the ever-present threat of WMDs, and countless other deadly obstacles.
This is the never-before-told, unsanitized story of how one Special Forces A-team recruited and organized, trained and eventually fought―and won―a legendary conflict that will influence American military doctrine for years to come.
Chosen Soldier: The Making of a Special Forces Warrior
An unprecedented view of Green Beret training, drawn from the year Dick Couch spent at Special Forces training facilities with the Army's most elite soldiers.
In combating terror, America can no longer depend on its conventional military superiority and the use of sophisticated technology. More than ever, we need men like those of the Army Special Forces–the legendary Green Berets.
Following the experiences of one class of soldiers as they endure this physically and mentally exhausting ordeal, Couch spells out in fascinating detail the demanding selection process and grueling field exercises, the high-level technical training and intensive language courses, and the simulated battle problems that test everything from how well SF candidates gather operational intelligence to their skills at negotiating with volatile, often hostile, local leaders. Chosen Soldier paints a vivid portrait of an elite group, and a process that forges America's smartest, most versatile, and most valuable fighting force.
Special Forces Berlin: Clandestine Cold War Operations of the US Army's Elite, 1956-1990
Highly classified until only recently, two U.S. Army Special Forces detachments were stationed far behind the Iron Curtain in West Berlin during the Cold War. The units' existence and missions were protected by cover stories, their operations were secret.
The massive armies of the Soviet Union and its Warsaw Pact allies posed a huge threat to the nations of Western Europe. US military planners decided they needed a plan to slow the juggernaut they expected when and if a war began. The plan was Special Forces Berlin. The first 40 men who came to Berlin in mid-1956 were soon reinforced by 60 more and these 100 soldiers (and their successors) would stand ready to go to war at only two hours' notice, in a hostile area occupied by nearly one million Warsaw Pact forces, until 1990.
Their mission should hostilities commence was to wreak havoc behind enemy lines, and buy time for vastly outnumbered NATO forces to conduct a breakout from the city. In reality it was an ambitious and extremely dangerous mission, even suicidal. Highly trained and fluent in German, each man was allocated a specific area. They were skilled in clandestine operations, sabotage, intelligence tradecraft and able to act as independent operators, blending into the local population and working unseen in a city awash with spies looking for information on their every move.
Special Forces Berlin was a one of a kind unit that had no parallel. It left a legacy of a new type of soldier expert in unconventional warfare, one that was sought after for missions such as the attempted rescue of American hostages from Tehran in 1979. With the U.S. government officially acknowledging their existence in 2014, their incredible story can now be told.
The Guerrilla Factory: The Making of Special Forces Officers, the Green Berets
With a veteran Green Beret as your guide, go deep inside the grueling training that every Special Forces soldier must endure to become an elite fighting machine.
With "a fresh, authentic voice" (Publishers Weekly), former Special Forces commander and current instructor Tony Schwalm takes readers deep inside the grueling training on the notorious Q course, required for all Special Forces soldiers before they can join the elite Green Berets that defends our country in nontraditional operations.
Horse Soldiers: The Extraordinary Story of a Band of US Soldiers Who Rode to Victory in Afghanistan
From the New York Times bestselling author of In Harm's Waycomes a true-life story of American soldiers overcoming great odds to achieve a stunning military victory.
Horse Soldiers is the dramatic account of a small band of Special Forces soldiers who secretly entered Afghanistan following 9/11 and rode to war on horses against the Taliban. Outnumbered forty to one, they pursued the enemy army across the mountainous Afghanistan terrain and, after a series of intense battles, captured the city of Mazar-i-Sharif, which was strategically essential to defeat their opponent throughout the country.
The bone-weary American soldiers were welcomed as liberators as they rode into the city, and the streets thronged with Afghans overjoyed that the Taliban regime had been overthrown.
Then the action took a wholly unexpected turn. During a surrender of six hundred Taliban troops, the Horse Soldiers were ambushed by the would-be POWs. Dangerously overpowered, they fought for their lives in the city's immense fortress, Qala-i-Janghi, or the House of War. At risk were the military gains of the entire campaign: if the soldiers perished or were captured, the entire effort to outmaneuver the Taliban was likely doomed.
Deeply researched and beautifully written, Stanton's account of the Americans' quest to liberate an oppressed people touches the mythic. The soldiers on horses combined ancient strategies of cavalry warfare with twenty-first-century aerial bombardment technology to perform a seemingly impossible feat. Moreover, their careful effort to win the hearts of local townspeople proved a valuable lesson for America's ongoing efforts in Afghanistan.
You have to react instinctively. In this game there's no second place, only the quick and the dead."
 
In Vietnam, Mobile Guerrilla Force conducted unconventional operations against the Viet Cong and North Vietnamese Army. Armed with silencer-equipped MK-II British Sten guns, M-16s, M-79s, and M-60 machine guns, the men of the Mobile Guerrilla Force operated in the steamy, triple-canopy jungle owned by the NVA and VC, destroying base camps, ambushing patrols, and gathering the intelligence that General Westmoreland desperately needed.
In 1967, James Donahue was a Special Forces medic and assistant platoon leader assigned to the Mobile Guerrilla Force and their fiercely anti-Communist Cambodian freedom fighters. Their mission: to locate the 271st Main Force Viet Cong Regiment so they could be engaged and destroyed by the 1st Infantry Division. Now, with the brutal, unflinching honesty only an eye witness could possess, Donahue relives the adrenaline rush of firefights, air strikes, human wave attacks, ambushes, and attacks on enemy base camps. Following the operation the surviving Special Forces members of the Mobile Guerrilla Force were decorated by Major General John Hay, Commanding General, 1st Infantry Division.
Masters of Chaos: The Secret History of the Special Forces
Special Forces soldiers are daring, seasoned troops from America's heartland, selected in a tough competition and trained in an extraordinary range of skills. They know foreign languages and cultures and unconventional warfare better than any U.S. fighters, and while they prefer to stay out of the limelight, veteran war correspondent Linda Robinson gained access to their closed world. She traveled with them on the frontlines, interviewed them at length on their home bases, and studied their doctrine, methods and history.
In Masters of Chaos she tells their story through a select group of senior sergeants and field-grade officers, a band of unforgettable characters like Rawhide, Killer, Michael T, and Alan — led by the unflappable Lt. Col. Chris Conner and Col. Charlie Cleveland, a brilliant but self-effacing West Pointer who led the largest unconventional war campaign since Vietnam in northern Iraq.
Robinson follows the Special Forces from their first post-Vietnam combat in Panama, El Salvador, Desert Storm, Somalia, and the Balkans to their recent trials and triumphs in Afghanistan and Iraq. She witnessed their secret sleuthing and unsung successes in southern Iraq, and recounts here for the first time the dramatic firefights of the western desert. Her blow-by-blow story of the attack on Ansar al-Islam's international terrorist training camp has never been told before.
The most comprehensive account ever of the modern-day Special Forces in action, Masters of Chaos is filled with riveting, intimate detail in the words of a close-knit band of soldiers who have done it all.
Lions of Kandahar: The Story of a Fight Against All Odds
One of the most critical battles of the Afghan War is now revealed as never before. Lions of Kandahar is an inside account from the unique perspective of an active-duty U.S. Army Special Forces commander, an unparalled warrior with multiple deployments to the theater who has only recently returned from combat there.
Southern Afghanistan was slipping away. That was clear to then-Captain Rusty Bradley as he began his third tour of duty there in 2006. The Taliban and their allies were infiltrating everywhere, poised to reclaim Kandahar Province, their strategically vital onetime capital. To stop them, the NATO coalition launched Operation Medusa, the largest offensive in its history. The battlefield was the Panjwayi Valley, a densely packed warren of walled compounds that doubled neatly as enemy bunkers, lush orchards, and towering marijuana stands, all laced with treacherous irrigation ditches. A mass exodus of civilians heralded the carnage to come.
Dispatched as a diversionary force in support of the main coalition attack, Bradley's Special Forces A-team and two others, along with their longtime Afghan Army allies, watched from across the valley as the NATO force was quickly engulfed in a vicious counterattack. Key to relieving it and calling in effective air strikes was possession of a modest patch of high ground called Sperwan Ghar. Bradley's small detachment assaulted the hill and, in the midst of a savage and unforgettable firefight, soon learned they were facing nearly a thousand seasoned fighters—from whom they seized an impossible victory.
Now Bradley recounts the whole remarkable story as it actually happened. The blistering trek across Afghanistan's infamous Red Desert. The eerie traces of the elusive Taliban. The close relations with the Afghan people and army, a primary mission focus. Sperwan Ghar itself: unremitting waves of fire from machine guns and rocket-propelled grenades; a targeted truck turned into an inferno; the death trap of a cut-off compound. Most important: the men, Americans and Afghans alike—the "shaky" medic with nerves of steel and a surgeon's hands in battle; the tireless sergeant who seems to be everywhere at once; the soft-spoken intelligence officer with laser-sharp insight; the diminutive Afghan commander with a Goliath-sized heart; the cool maverick who risks all to rescue a grievously wounded comrade—each unique, all indelible in their everyday exercise of extraordinary heroism.
The Only Thing Worth Dying For: How Eleven Green Berets Fought for a New Afghanistan (P.S.)
Eric Blehm, author of the award-winning The Last Season, is back with another true adventure story, The Only Thing Worth Dying For. Set in the immediate aftermath of 9/11, The Only Thing Worth Dying For chronicles the untold story of the team of Green Berets led by Captain Jason Amerine that conquered the Taliban and helped bring Hamid Karzai to power in Afghanistan.
In the tradition of Black Hawk Down, The Only Thing Worth Dying Foris, in the words of former Congressman Charlie Wilson (from Charlie Wilson's War), "the one book you must read if you have any hope of understanding what our fine American soldiers are up against in Afghanistan."
Gentlemen Bastards: On the Ground in Afghanistan with America's Elite Special Forces
Until the war in Iraq, Special Forces were the military's counterinsurgency experts. Their specialty was going behind enemy lines and training insurgent forces. In Afghanistan, they toppled the Taliban by transforming Northern Alliance fighters into cohesive units. But since that time, Special Forces units have focused on offensive raids.
With time running short, the Green Berets have now gone back to their roots.
Award-winning journalist Kevin Maurer traveled with a Special Forces team in Afghanistan, finding out firsthand the inside story of the lives of this elite group of highly trained soldiers. He witnessed the intense brotherhood, the rigorous selection process, and the arduous training that makes them the best on the battlefield. Here, Maurer delivers a compelling account of modern warfare and of a fighting force that is doing everything in its power to achieve victory.
Desperate Lands: The War on Terror Through the Eyes of a Special Forces Soldier
DESPERATE LANDS is the unprecedented story of U.S. Army Special Forces soldiers and the missions they have carried out while fighting the war on terror in the Horn of Africa and in Afghanistan. The book is unique and timely, in that it tells the compelling story of our nations struggle and of its soldiers fighting a new and different kind of war never fought before a Global War on Terror. This true story comes at a time when our nation has divided feelings and opinions about this war a division that exists among both government leaders and the American people.
These pages offer a different perspective that of lower enlisted soldiers reflecting their personal experience in combat zones in Africa and Afghanistan as they witnessed and experienced the fog of war. The author Special Forces Master Sergeant Regulo Zapata, Jr. shares his extraordinary journey through ancient and desperate lands at the front lines of this ongoing war. Here are true stories of sacrifice, bravery, excitement, horror, anger, tedium, fear, camaraderie, and more a firsthand look behind the headlines at the reality of the exceptional and difficult challenges U.S. Army Special Forces soldiers face as they defend America against the terrorist threat.
The Raid: The Son Tay Prison Rescue Mission 
Minutes after 2 A.M. on November 21, 1970, more than one hundred U.S. war planes shattered the dark calm of the skies over Hanoi. Their mission: rescue sixty-one American POWs from Son Tay prison. Less than thirty minutes later, the raid was over, but no Americans had been rescued. The prisoners had been moved from Son Tay four and a half months earlier and that wasn't all. Part of the raiding force landed at the wrong compound, a "school" bristling with enemy soldiers, but the soldiers weren't Vietnamese.
Replete with fascinating insights into the workings of high-level intelligence and military command, The Raid is Benjamin Schemmer's unvarnished account of the courageous mission that was quickly labeled an intelligence failure by Congress and a Pentagon blunder by the world press. Determined to ferret out the truth, Schemmer uncovers one of the CIA's most carefully guarded secrets. From the planning and live-fire rehearsals to the explosive reactions of the Joint Chiefs of Staff watching the drama unfold to the aftermath as the White House and Pentagon struggled for damage control, Schemmer tackles the tough questions. What really happened during the twenty-seven minutes the raiders spent on the ground?  Did the CIA know the whole time that the Americans were gone? Had the Agency in fact been responsible for the POWs being moved? And perhaps most intriguing, why was the rescue—though it never freed a single prisoner—not a failure after all .
*The views and opinions expressed on this website are solely those of the original authors and contributors. These views and opinions do not necessarily represent those of Spotter Up Magazine, the administrative staff, and/or any/all contributors to this site.
The info about these books are direct from the publisher.
*The views and opinions expressed on this website are solely those of the original authors and contributors. These views and opinions do not necessarily represent those of Spotter Up Magazine, the administrative staff, and/or any/all contributors to this site.